Insiteful can help you track form entries and more from virtually any web form in just a few clicks. Apart from helping you capture 100% of leads that fill out your forms, our plug-n-play solution also enables you to increase your conversion rate with power-ups (i.e. save & continue later), auto follow-up, and smart insights (i.e. confused / abandoned form fields).
You can track any Unbounce Forms with the usual method for tracking web forms with Insiteful (also included below, for your convenience). However, before you get started, please make sure to read about unique IDs in Unbounce to ensure you're able to track your web forms accurately Insiteful — nothing complicated, just one additional click at most!
Want to save lead data from users that start to fill out your Unbounce forms but don't finish? It doesn't have to be tedious. There's nothing more disheartening than missing out on a potential opportunity due to form abandonment or website drop-offs; Insiteful can help you seal the leaks in your lead forms!
How to track form abandonment & partial entries in Unbounce forms
Ready to start capturing & tracking leads from your forms? With Unbounce and Insiteful, it just takes a couple clicks:
Add your website: Just login to Insiteful & visit the Domains page and add your website where indicated in the screenshot below.

Install code: Simply follow the instructions on the Quick Start page to install in a couple clicks: you'll simply need to copy & paste your tracking code from the Install page into the Unbounce editor under "Javascripts" (as indicated by the red arrow in the screenshot below). That's all there is to it!

Alternatively, if you use a tool like Google Tag Manager to manage your third-party marketing tools or would prefer to directly paste the tracking script into Unbounce, you have multiple one-click installation options available to quickly install Insiteful:
How-to find the unique ID for Unbounce forms:
Insiteful (and any other analytics platform, for that matter) identifies forms based on the unique ID's in the HTML code. To ensure we're able to track & distinguish your forms, check to be sure your unique ID's are present: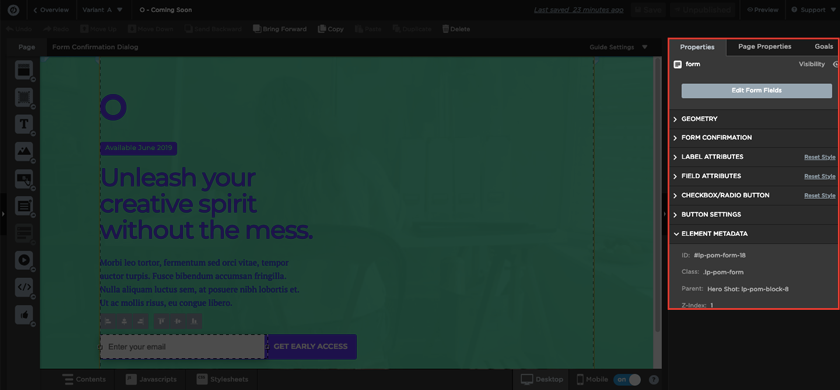 You can view the unique ID and other HTML metadata for any form in the right-hand side Properties tab under Element Metadata, as seen below: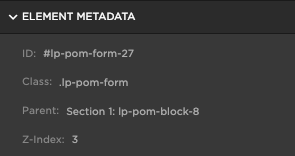 For the form pictured above, the unique ID is as follows:
#lp-pom-form-27
This ID will appear on the Formspage once the first form entry is captured from this form.
Read more about form metadata from the official Unbounce docs, here.
---
Use Instapage, ClickFunnels, Webflow or some other landing page builder? Insiteful is compatible with any form builder & website platform: click here to browse form tracking instructions for other platforms!
Was this post helpful?
Let us know if you liked the post. That's the only way we can improve.