Once you've started successfully installed Insiteful on your website (step 1), the next step is to choose & enable the power-ups that help optimize your customer experience and drive an increase in conversions — it just a matter of few clicks:
You'll want to start by on the
Domains
page and click the "Edit" button in the "Power-ups" column (as indicated in the screenshot below)

This will bring to you the Domains Settings page, which should look something like the screenshot below. With just a few dropdowns and settings, you can boost your form conversion by 15% or more in just a few clicks: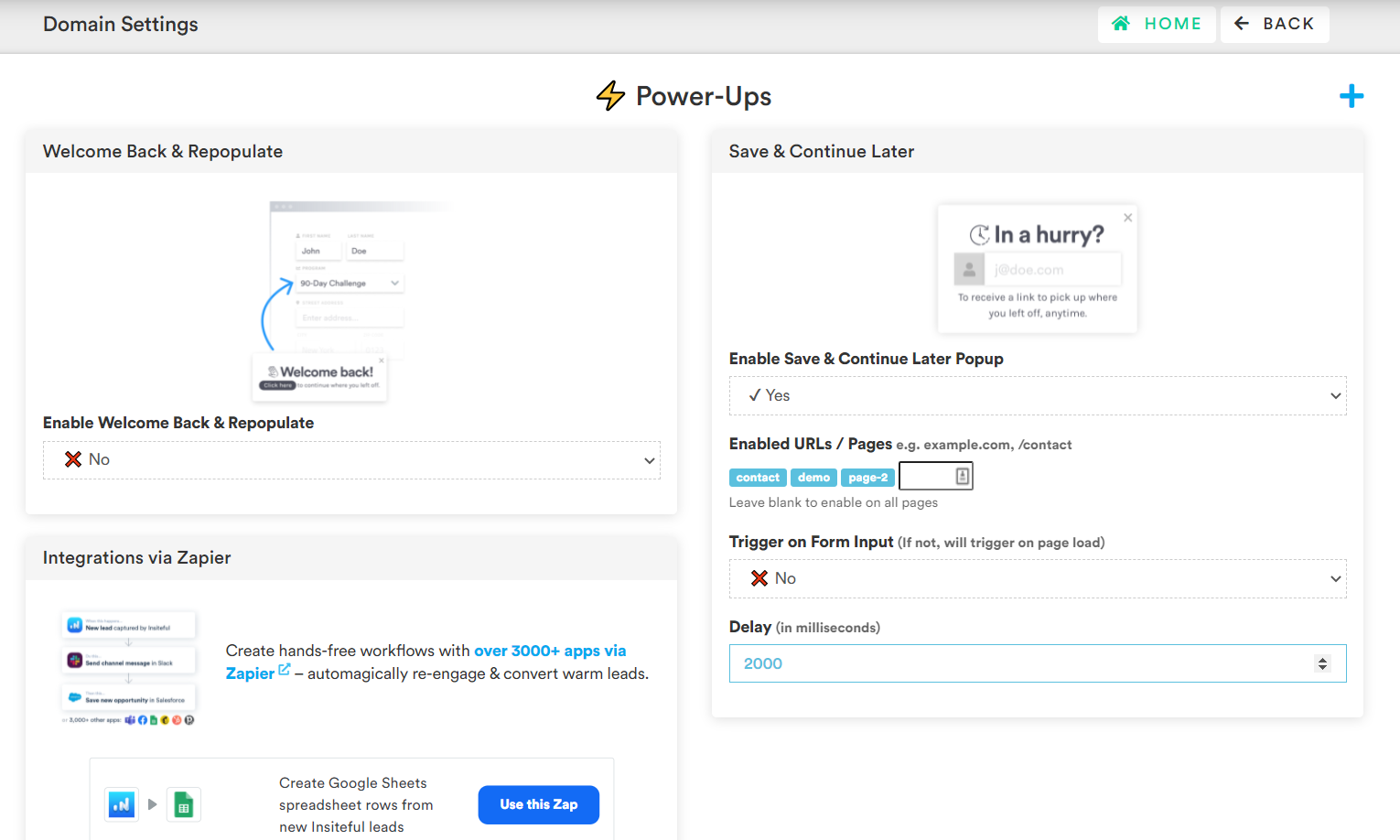 Repopulate (Welcome Back)


Insiteful allows you to automatically greet returning users (regardless of which page they land on your website) and guide them back to where they left off:

All you need to do is simply switch the dropdown under "⚡ Power-ups > Welcome Back & Repopulate" to "Yes" and returning users will be greeted with the option to resume exactly where they left off on your website. Thanks to Insiteful's smart Repopulate feature, any previous form entries & partial submissions entered by your prospect will be restored, so they can seamlessly pick up where they last stopped upon returning to your web forms.

Saved Progress (Save & Continue Later)


Insiteful also empowers your website visitors to save and resume their progress as desired. If you'd like to give users who may be in-a-hurry the option to receive a link to continue later, all it takes is a couple clicks with Insiteful. On the same Domain Settings page (screenshot above), switch the dropdown under "⚡ Power-ups > Save & Continue Later" to "Yes" and choose a delay time of your choice (in milliseconds) to display a prompt to users who may want to continue later. You can also add a comma-separated list of pages to only display this prompt on specific pages — if left blank & enabled, the Save & Continue Later prompt will display on all pages.
Taking a few minutes to setup these simple, automated form experience optimization power-ups can have dramatic benefits, as demonstrated by some of our case studies:
conversion lift of >12%
! That is equal to more than 1 extra lead for every 10 you're getting today from any web form, with virtually no extra work. To capture even more leads with Insiteful, read more about how-to
automate follow-up emails here
.
Was this post helpful?
Let us know if you liked the post. That's the only way we can improve.