Forms are a critical lead generation tool for many businesses that drive sales online. Your web forms are the key touchpoint where prospects get in touch with you, inquire about your services, or even buy products or book appointments. Statistically speaking, however, there is a very high likelihood (over 76%) that visitors may abandon the form before submitting it.
This leaves behind partial form entries — incomplete submissions that you would traditionally get no chance to see or be entirely unaware of (even with the likes of Google Analytics or Hotjar).
By letting those partial entries disappear, you end up losing potential leads and customers you might have been able to retrieve if only you were able to capture these incomplete form submissions.
This post will discuss the advantages of capturing partial entries from your web forms. Along with that, we will also demonstrate how to capture partial entries from any form using Insiteful's 1-click partial form tracking. Let's get started…
Why does partial form entry capture matter?
Let's talk about the benefits of setting up your forms to capture partial entries before we look at the technical details. As with abandoned carts, partial form entries occur when visitors abandon the form before submitting it. 
In that case, the prospect was interested enough to open the form, but for some reason stopped. You are not likely to see those users again if you do nothing to reach them. This means that you could be losing out on a lot of leads if you're not tracking partial entries.
With Insiteful, doing so doesn't have to be complicated: you can track your existing forms as-is by simply adding our tracking code to your website! Whereas most all other comparable solutions require migrating your forms to a complicated & expensive platform, Insiteful can help you capture partial entries from your existing web forms by just copying & pasting our 1-line tracking code – which is compatible with virtually any form or website builder.
What is the root cause of abandoned forms?
Form abandonment can happen for a variety of reasons: sometimes it's just because something else distracted your visitor (ie. phone call, crying baby, who knows?), but often it's something about the form experience (ie. the form was too long or confusing).
One additional benefit of tracking partial form entries is that it reveals the friction points and specific form fields where users are dropping off, so you can adjust your forms accordingly. In the meantime, as long as you have Insiteful's partial form tracking code installed, you will be able to follow-up and recover any lost leads since you'll have their contact information!
Capture partial form entries with Insiteful
At the end of the day, abandoned forms are a source of lost revenue and partial form tracking is a simple & effective solution to capture 100% of the leads that fill out your forms. With Insiteful, it only takes a couple clicks (<2.5min) to set up partial form tracking—
One of the biggest benefits of Insiteful is that it is compatible with any form builder or web platform, so you don't have to change anything about your setup: just add our install code, and you'll start tracking partial entries from your existing forms. All you need is to signup for an account, and follow the steps below to start capturing partial entries:
Step 1: Add Insiteful to your website
First, you'll want to login to Insiteful & visit the Domains page and add your website where indicated in the screenshot below.

Step 2: Install partial entry tracking on your forms
The next step is to set your forms to capture partial entries: simply copy & paste the JavaScript code on the Install page of Insiteful into the <body> of any web page &/or form(s) you'd like to track and optimize. If you have any questions, read the full partial form tracking installation instructions here.
Whether you use a tool like Google Tag Manager to manage your third-party marketing tools, or an integration like WordPress, there's a simple, one-click installation option to add Insiteful's partial form entry tracking code to your existing web forms & websites.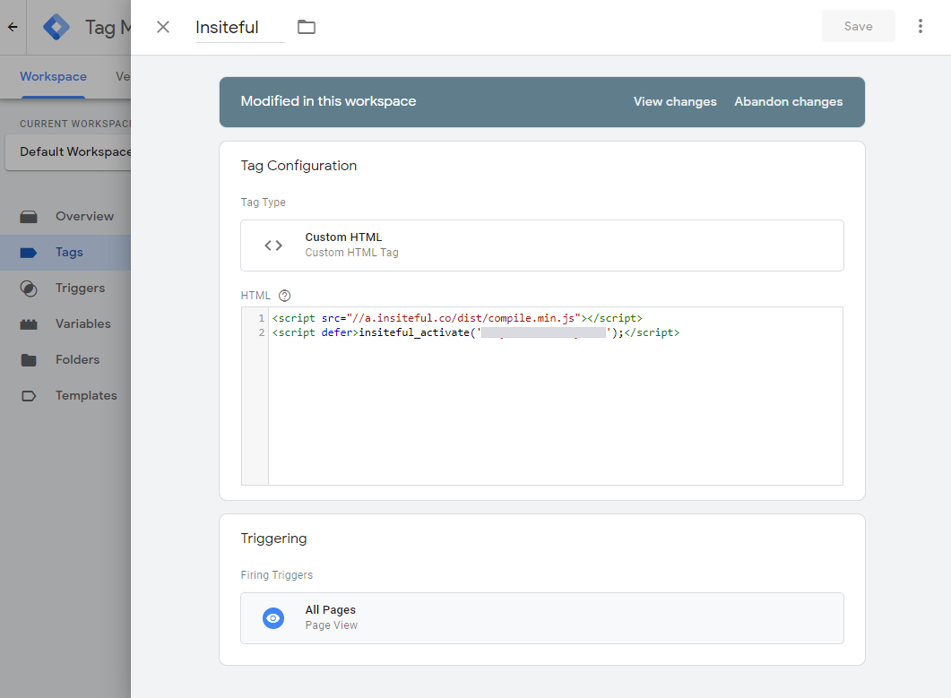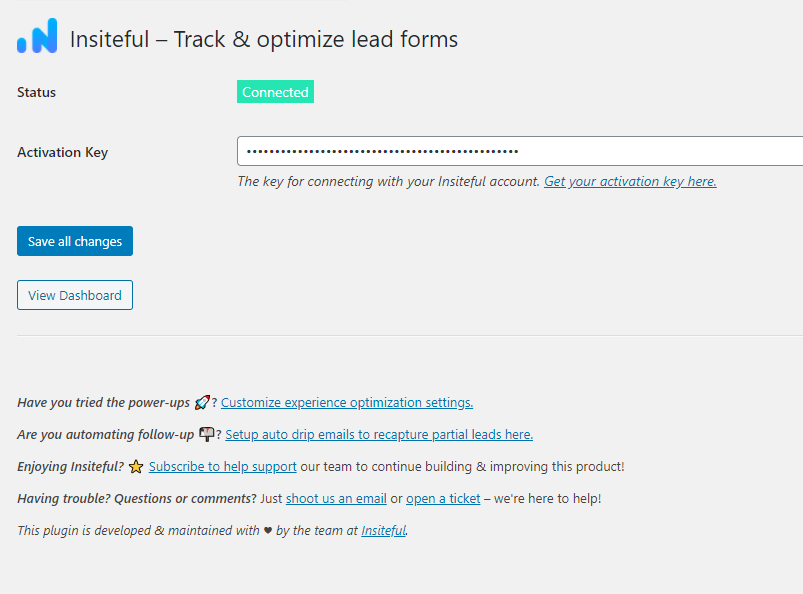 How to view your partial entries
All the partial entries captured from your forms can be viewed in the Insiteful dashboard. Insiteful will also send you automatic email alerts when a new lead is detected from partial entries. You can view all your partial entries by simply going to the Live (previously called Form Fill) or Leads page in the Insiteful admin panel (as seen below).

Allow users to resume progress from partial form entries
Capturing partial form entries is effortless with Insiteful: start tracking your existing forms in a matter of a few clicks. With just one additional click, you can also allow any returning website visitors to save & resume progress based on partial form entry data.
If you want users to be able to resume progress using your partial entry tracking, you simply need to visit the "Power-Ups" page in the Insiteful admin panel and enable the built-in Save and Continue Later feature.
Another option is to use the In-a-Hurry or Welcome Back feature to further streamline the experience for returning users — case studies have shown up to 15% conversion lift from these simple 1-click optimizations.
Apart from this, you can also use Insiteful's native email follow-up feature or no-code integrations to automatically schedule a follow-up email to be sent to potential prospects whenever a form is abandoned.
Was this post helpful?
Let us know if you liked the post. That's the only way we can improve.