The conversion rate is calculated by dividing the number of visitors that land on your website by the number of conversions. The term "conversion" is so broad because it encompasses every aspect of a site's user experience. You can optimize conversion rates on landing pages, category pages, or any other customer touchpoint.
All the time and effort put in by businesses to bring customers to the website are in vain if the business can't get conversions from buyers. It wouldn't be too far-fetched to say that the conversion rate is one of the most important KPIs for any business. Just look to Google Trends to see the numbers — searches for CRO-related topics have grown exponentially in the last five years: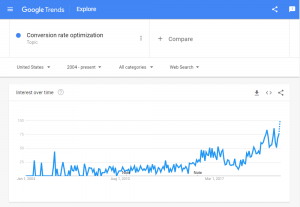 However, conversion rate optimization is not an overnight process and requires patience, the right strategies, and up-to-date knowledge of the industry. There are several ways to approach conversion optimization to gain more buyers and ultimately increase sales.
To keep you updated with the space, we have compiled the ultimate list of CRO statistics that will help you prioritize your efforts and identify what assets may be worth adding to your marketing and optimizing strategies based on your goals and business objectives. You can also browse more form abandonment statistics here.
Conversion Rate Optimization (CRO) Statistics
HubSpot reports that 69% of marketers feel lead conversion is of top priority. (Hubspot)

50% of companies say conversion rate optimization is a crucial part of their digital marketing strategy. (Econsultancy)

The average landing page conversion rate is 2.35%. (Search Engine Land)

The top 10% of landing pages have a much higher conversion rate (11.45% on average). (Search Engine Land)

According to First Page Sage, the top 5 industries with the highest conversion rates are Legal Services – 7.4%, Point of Sale (POS) Services – 7%, Staffing Services – 5.1%, IT Staffing & Services – 3.5%, and HVAC Services – 3.3%.

The conversion rate of online shoppers worldwide by device is desktop – 2.1%, tablet  – 3.32%, and Mobile – 2.01%.

Web traffic ranked as the second-most-common way to measure content marketing success. Total sales ranked first (HubSpot, 2020).

According to 68 per cent of marketers, paid advertising was one of the most critical components of their overall marketing strategy (Hubspot, 2020).

Fifty-eight per cent of marketers said that their strategies for generating user demand can get them the results they need (Ascend2, 2018).

Only 40 per cent have adopted a strategic approach based on their understanding of the customer journey (Decibel & Econsultancy, 2020).

Removing the navigation menu can increase sign-ups by as much as 100 per cent (VWO, 2021).

Reducing the number of form fields to just three results is an optimum number for conversions. (Hubspot, 2020)

Website conversion rate drops by as much as 4.42 per cent per additional second your site loads during the first five seconds of page loading (Portent, 2019).

CTAs used as anchor text in blogs improve conversion rates by up to 121 per cent more than banner ads. (Hubspot, 2021)

Google recently announced that it is placing more emphasis on user experience as a ranking signal in SEO, significantly impacting CRO services everywhere.

CRO services will be looking to integrate mobile-first experiences such as voice search and augmented reality in their CRO marketing techniques for years to come.

Conversion Rate Optimization (CRO) tools offer a 223% ROI on average. (VentureBeat)

For every $92 spent acquiring customers, only $1 is spent converting them. (Econsultancy)

68% of small businesses don't have a documented CRO strategy. (CXL)

Only about 22 per cent of businesses are satisfied with their conversion rates. (Econsultancy)

74% of conversion rate optimization programs increase leads and sales. (Marketing Sherpa)

The highest average conversion rate by traffic source is paid search (2.9%)

55% of companies plan to increase their CRO budget. (CXL Institute)

Companies spend $2,000 on CRO tools on average. (Forbes)

Increasing your number of landing pages from 10 to 15 increases leads by 55%. (Hubspot)

On average, 44% of B2B clicks go to homepages, not landing pages. (Hubspot)

Multi-page forms have higher average completion rates than single-page forms (Formstack)

When companies across all industries use user-generated content, the average conversion rates increased by 161%. (Yotpo.com)

The headline of your blog post can also determine the conversion rate. Research shows that 36% of people prefer headlines that have numbers. (Conductor)

A great way of boosting the conversion rate of your landing pages is by making them interactive. One way of doing that is by adding videos, as they can increase the conversion rate by 86%.

The best websites have conversion rates of 11% or more. (Wordstream)

Facebook ads convert at around 9.21% on average. (Wordstream)

Sporting goods have the lowest average eCommerce conversion rate by industry (2.35%). (Yotpo.com)

The highest B2B average conversion rate by industry is professional/financial services (10%) (MarketingSherpa)

Top-converting companies spend at least 5% of their budget on CRO. (Adobe)

Reducing the number of form fields from 11 to 4 generates 120% more conversions. (Unbounce)

Using 'submit' as your CTA anchor text can reduce conversion rates by as much as 3%. (Unbounce)

Asking for a telephone number can reduce conversion rates by 5%. (Unbounce)

Removing page navigation from your landing pages boosts conversion rates by up to 100%. (VWO.com)

Businesses that successfully boost conversion rates perform 50% more tests. (Econsultancy)

Personalized CTAs outperform non-personalized CTAs by 42%. (Hubspot)

People are searching Google for the phrase "conversion rate optimization" more than ever before. (Google)

Using correct targeting and testing methods can boost conversion rates up to 300%. (Marketing Experiments)

7 in 10 marketers practising CRO use results of experiments to inform offline or other marketing initiatives. (Marketing Sherpa)

Only about 22 per cent of businesses are satisfied with their conversion rates. (Econsultancy)

B2C companies that leverage 'marketing automation' have seen conversions as high as 50%. (Emarketer)

Referrals have the highest conversion rates of all customer acquisition channels at 3.74%. (Marketo)

96% of marketers say 'segmentation' is the most powerful method of improving conversion rate. (Econsultancy)

Companies with mobile-optimized sites triple their chances of increasing the mobile conversion rate to 5% or above. (Adobe)

Personalized email messages improve conversions by 10%. (Aberdeen)

Anchor text CTAs increase conversion rates by a whopping 121%. (HubSpot)

Global Conversion Rate Optimization (CRO) Software Market was valued at USD 771 Million in 2018 and is expected to witness a growth of 10% from 2019-2026 and reach USD 1,932 Million by 2026. (Verified Market Research)

According to a VentureBeat study (where 3,000 marketers took part in the survey), the average ROI of using CRO tools is 223%. Only 5% of participants did not generate ROI while 173 marketers said they gained returns higher than 1,000%.

Faster websites convert more. A 1-second delay in website load time means a 7% reduction in conversions. (Liveseysolar)
Learn how Insiteful.co can automagically boost you conversion rate by recovering abandoned form leads.
Was this post helpful?
Let us know if you liked the post. That's the only way we can improve.