Living in the digital age means your business's website is one of the most important marketing channels. The fact that 93% of business decisions start with a search engine reinforces the importance of the online identity of your business and nothing impacts this identity more than having a website that enhances user experience.
Forms are one of the most important aspects of this user experience and they serve an ever more crucial function: a connection between the user and the organization. Whether you want the user to buy, signup, or subscribe, they are going to have to fill a form at some point. Having a poorly-designed form will lead to form abandonment and a direct hit to revenue.
Enhancing your form design can help increase conversion rates as well as improve return on your marketing efforts. Optimizing forms can be a little bit tricky because form conversion rate can be influenced by a wide variety of factors such as the number of fields, types of fields, form placement, call-to-action button, and so on.
While optimizing your forms, it can be very easy to fall into the pit of blindly following 'best practices'. Best practices can lead to an even lower conversion rate if you don't understand your unique target audience and how they engage with your form.

The engagement time, hesitation time, dropoff rate, and other aspects of a visitor's interaction with an online form can be measured using form field analysis. Form analytics aim to identify and emphasize the key points in the user experience & overall journey during the process of filling out your forms. By analyzing problem areas and collecting all user entry data, form field analysis gives you all the tools to get the most out of your lead forms.
How to record form entries and implement form field analysis
There are many analytics tools available on the market that can help you with form analysis (Google Analytics generally won't cut it) — but if you want something specifically for lead forms, you can't go wrong with Insiteful. 
Insiteful is a conversion rate optimization (CRO) tool that is created with form abandonment in mind. Form field analysis is a powerful feature in Insiteful and it is as easy to set up as adding one line of code to your forms without additional technical knowledge. With Insiteful form field analysis, you can track how users progress through your lead form and see how many visitors make it past each step, thereby identifying any problems or areas for improvements in the customer journey.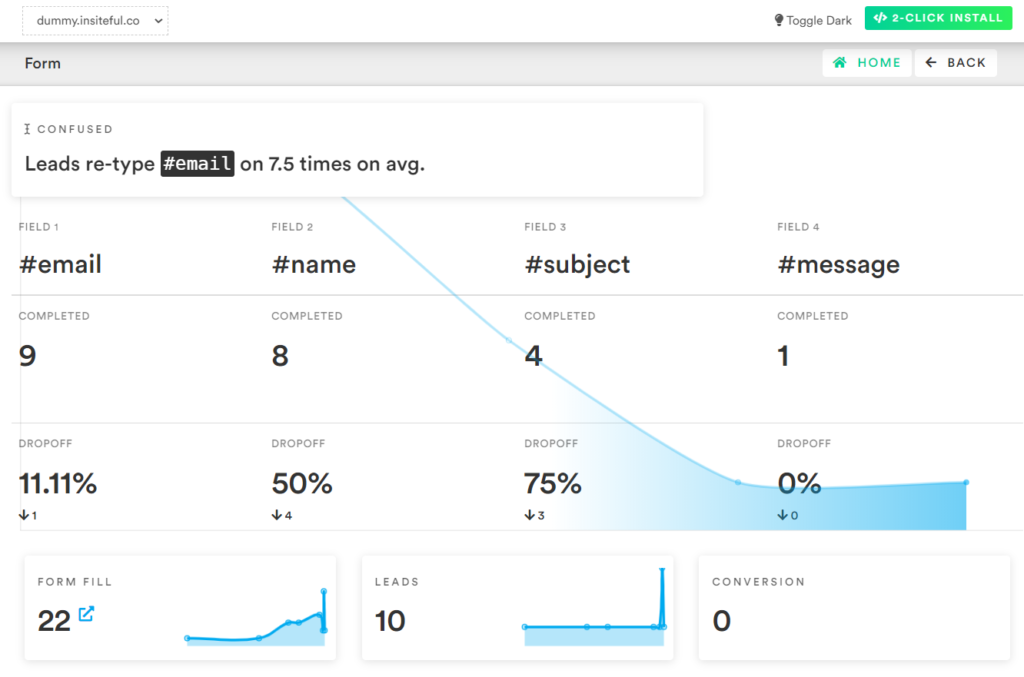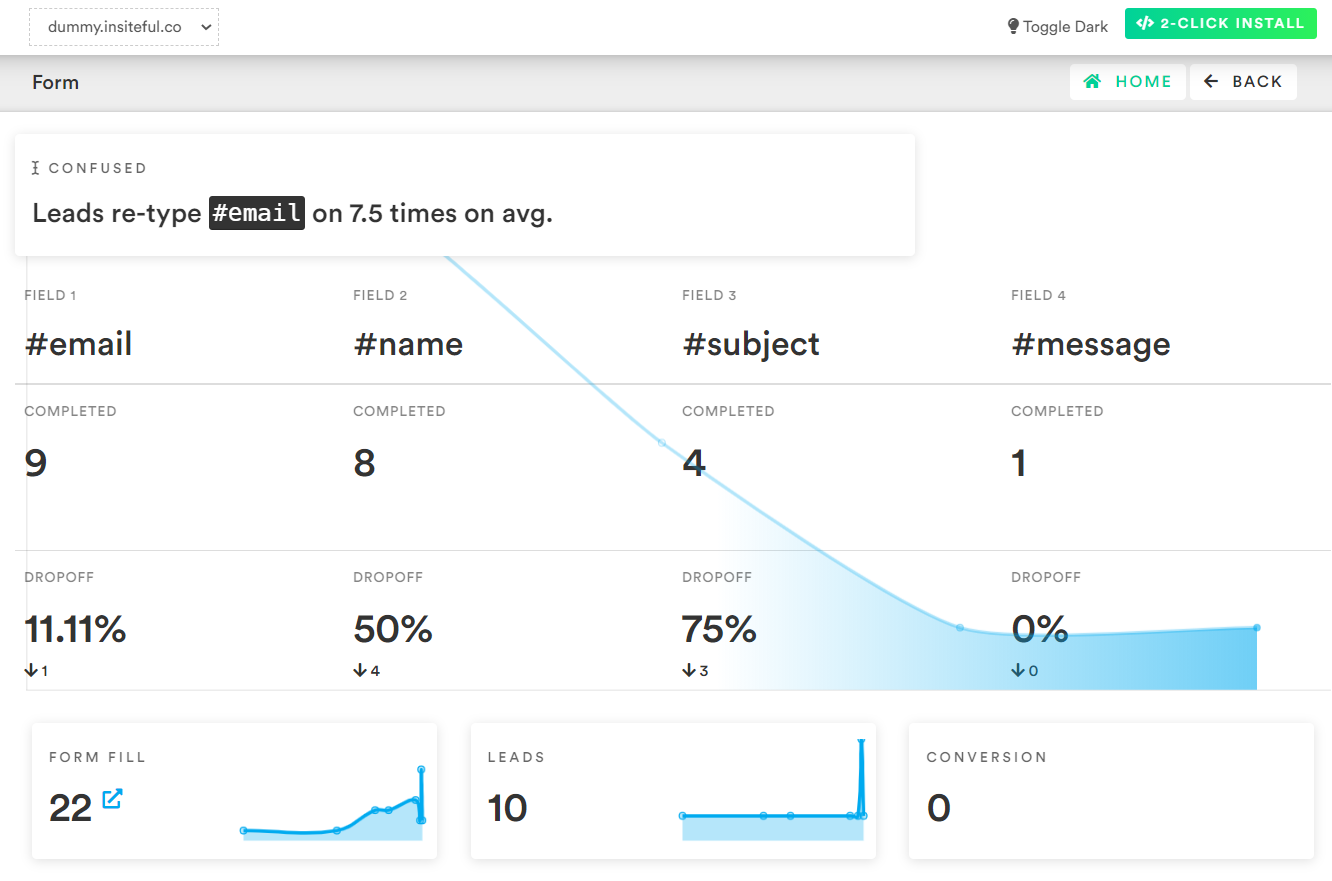 Form fill recording is also available in Insiteful — so you capture incomplete form responses, even if the user does not press submit! There are no additional steps required to set up partial entry tracking and it works with virtually all forms available including WordPress, Webflow, HubSpot, Typeform or some other form builder.

Benefits of Form Field Analysis
The drop-off and completion rates for each field in your lead forms are displayed in form field analytics, so you can instantly see when and where potential clients are departing or getting lost.

Learn about different field designs to identify friction points. For instance, if Insiteful's

form field insights

indicate that users are getting hung up on a specific field, you may want to eliminate or redesign that component of your form.

You can also use the information acquired to generate new business ideas by understanding the actual intent of your target audience. For example, if most of your visitors abandon your form as soon as they reach the pricing or budget section, you might supplement the option by offering lower-cost or other relevant options. You can also use this information to target a different market segment and increase your chances of converting visitors into customers.

Form field analysis also aids in the understanding of the relevant fields that users tend to fill out when submitting data for any given field. You may be able to increase conversion rates by breaking up fields into multi-page forms, starting with the fields with the highest completion rates on page one.

Create a segment with a specific pattern for users filling out forms, or a specific field that users complete, and analyze this segment's behavior on the website to remarket products/services appropriately. 
* * *
To summarize, form analytics gives you all of the necessary conversion-critical data to track and optimize the performance of your website's forms. Insiteful's form analytics helps you figure out how to optimize your website forms to collect more leads and increase conversions. By tracking everything from the total time spent on a form to interaction time, hesitation time, drop-off rate, refill rate, and more, you'll have a complete understanding of what is (and isn't) working.
In addition to form analytics, Insiteful is packed with features such as smart insights, partial entry tracking, auto email follow-up & saved progress. With Insiteful, you'll never miss another opportunity thanks to our all-in-one form abandonment software. Capture and convert 100% of prospects that fill out your forms with our intuitive form tracking and automated optimization tools.
Insiteful has everything you need to capture & convert more leads from your existing efforts. Try it today — it takes just a few clicks!
Was this post helpful?
Let us know if you liked the post. That's the only way we can improve.