Customers connect with your website through forms in a variety of ways, including signing up as a lead, asking questions, and obtaining support. Tracking your form engagement and form analytics will help you identify and address these critical components. Without form analytics, you're left to throw "best practices" darts at a board.
There is nothing wrong with best practices but at best they are common practices (that everyone is following) and at worst they are totally unnecessary or counterproductive for you. 
One example is form length: it is generally recommended that the shorter the form, the better. While there are studies that show reducing the number of fields can greatly increase form conversion, it's not true for every single business. For instance, a travel signup form would need to know departure, destination, name, email, luggage information, date, and so on. Longer forms also make sense when the Customer lifetime value is very high. 
The argument that form analytics should take precedence over best practices makes sense. The problem, however, is that when you go down the analytics rabbit hole, it gets deeper and deeper. Just some of the data points you could be looking at include Views, Starts, Submissions, Completion rate, Average time to complete, Heatmaps, bounce rate, Clickmaps, Session Recordings, Total time, hesitation time, Refill Rate, and so on.
Surely, you have better things to do than sitting all day in front of your PC and looking at all the numbers. In this article, we will take a look at some of the most important insights that will take less than 5 minutes to examine so you can make the most important changes to your forms to increase conversions.
For the sake of simplicity and to save time, we will use Insiteful: a conversion rate optimization solution that you can integrate with your forms with one single line of code. By connecting Insiteful with your forms, you empower your marketing and sales teams to track your existing landing pages and online forms at the field-level, and capture 100% of user entries.
Form Field Bottlenecks
Is there a field in your forms that is confusing, unnecessary, and turning people away? Form field bottlenecks are one of the most important data points. Insiteful allows you to identify where people get "stuck" or decide to abandon your form. If you see a large number of users stop filling out fields when it comes time to fill in their DOB or phone numbers, you can simply make that field optional (or wholly remove it).
Partial Form Entries
As important as it is to understand where people are leaving your forms, however, it is even more critical to identify who is leaving your forms. These people represent the portion of your traffic that is ready to convert and is very valuable for your business.
Insiteful starts capturing data as soon as the visitor starts filling out the form. If they abandon the form midway, Insiteful will alert you in real-time via email and/or sync these partial leads with the CRM of your choice. You can then follow up with these leads by sending automatic follow-up emails to ask them what went wrong or give them an incentive to come back and complete the form. According to a study, 30% of participants said they will come back to complete the form if the company gives them some incentive. Alternatively, you can add these leads to your remarketing campaigns via Facebook or Google Ads with Insiteful's built-in export. 

Form Funnel Analytics
Website users follow defined paths from beginning to end, and each site has a specific aim in mind for its visitors. You can improve your visitors' experience by analyzing how they navigate your website & forms. A high exit rate on the credit card field, for instance, may indicate that users may benefit from discounted pricing or a free trial, to remove friction. This journey can be tracked by Insiteful, allowing you to optimize your web forms and guarantee that visitors meet your objectives.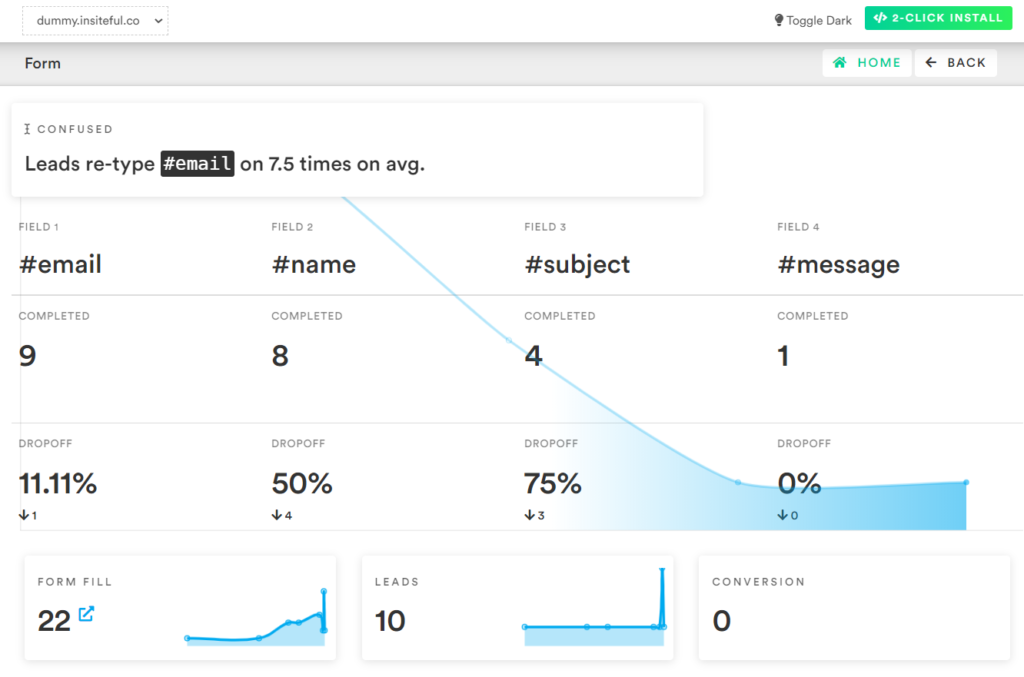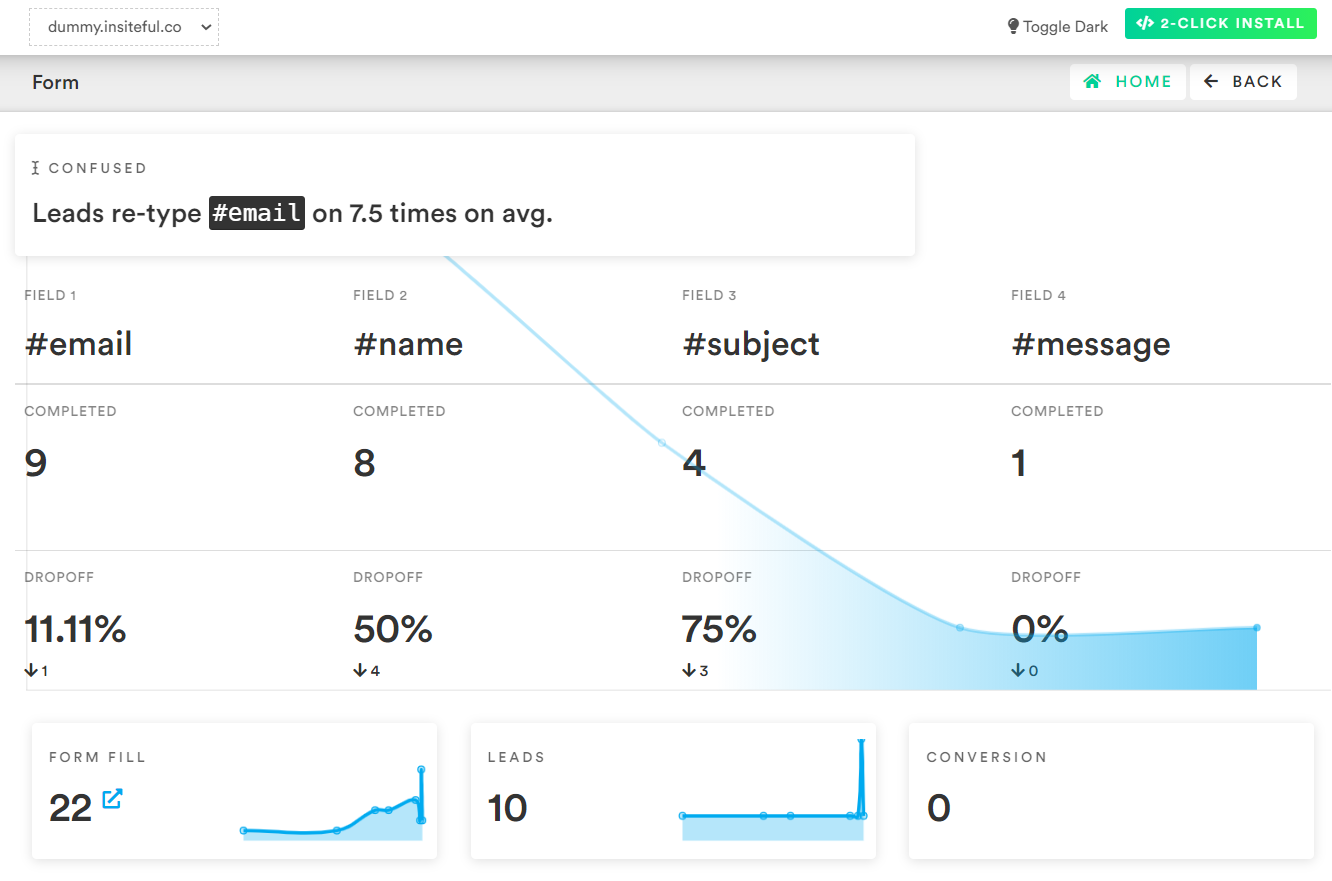 ‍With Insiteful's partial entry tracking and form abandonment solution, you'll get notified the moment someone starts to fill out your lead generation forms. Getting more marketing insights from lead generation forms has never been easier — and it takes less time than ordering a coffee to set it all up.
The techniques above are highly effective ways to gain more insight into your lead generation forms, but they are only the beginning. Click here for more ways to reduce form abandonment & convert more leads: from save & continue later, to automatic email follow-up & more.
Was this post helpful?
Let us know if you liked the post. That's the only way we can improve.