Although your website visitors tend to travel unique paths, all traffic eventually funnels down to a stream of conversions. Web form analytics and funnel analysis are powerful tools to identify friction points that cause interested leads to bounce off your website, so you can optimize your website experience to boost sign-ups and sales.
Learn how you can leverage funnel analysis to identify problematic form fields, design or copy, so you get the most out of your digital marketing efforts.
What is funnel analysis?
Funnel analysis is the process of mapping the flow of website visitors to a set of specific steps that result in conversions or signups. Businesses use funnel analysis to trace the user journey, optimize website design, and measure how many visitors end up in each stage of the funnel.
A "website funnel" gets its name because, much like a physical funnel, it narrows toward the end—so the volume of visitors at the top is larger than the volume of visitors at the bottom.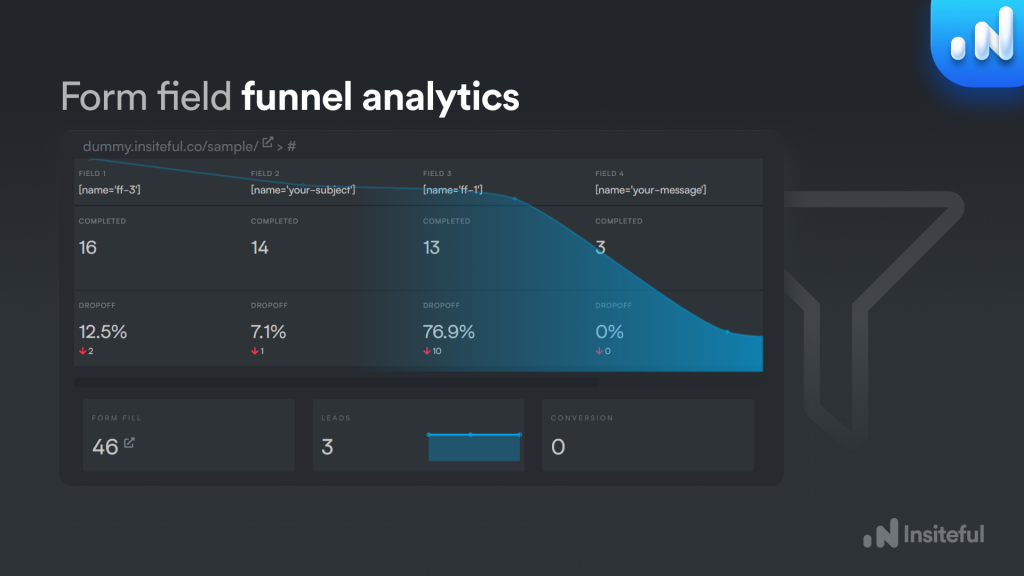 Form abandonment happens when a visitor starts filling out a form on your website but doesn't complete it and abandons it. If you consider all the efforts that have been put in until that point — running ads, generating leads, blogging, social media marketing, email marketing and other marketing strategies — form abandonment really bites.
What makes things worse is that form abandonment is growing. A Barilliance's study found that the average cart and form abandonment rate between 2016 and 2020 has been slowly but steadily rising. Solving form abandonment should be high on every business' to-do list because it can increase revenue without additional marketing. All you have to do is reduce friction in order to nudge the visitor over the line and cash in 10% – 15% more revenue from your existing efforts.
Why do forms get abandoned in the first place? There are various factors at play here, but the majority of the people leave forms for one of two reasons: either a) they got distracted by something else, or b) they don't trust the website with their personal information.
Some people find forms too lengthy to complete and can't be bothered to fill in everything. Sometimes copy is not convincing, or the form fails to communicate the value proposition. Demographics also play a role: Millennial shoppers (aged 25-34) are the most indecisive online, according to retailers. Additionally, the intent of the user also comes into play — visitors may not be ready to sign up for your product or service if they are still making their decision. Nevertheless, the following simple improvements can help reduce abandonment for all of the above cases:
How can form analytics help me?
From design to functionality, there are several ways you can immediately reduce form abandonment on your website.
Form Length: Reduce the number of required fields on your forms. It's proven from studies that fewer form fields generally lead to more people completing forms.
Value Proposition: Forms that convey the value proposition tend to do well, as people feel they are achieving something by filling out the form. Adjust your call-to-action (CTA) buttons and copy from generic defaults (ie. "Submit" →  "Book a demo") to better resonate with users, thereby increasing conversions.
Reduce Friction: There can be many sources of friction in forms. Are you asking for personal information that isn't necessary such as a phone number? Maybe your form copy isn't in line with the copy of the page or your form design isn't blending with the page and looks out of place. Are there any fields in your form that are confusing? Try to reduce all and every kind of friction to help your visitors. Analyzing form field bottlenecks can help reveal these problem areas.
Privacy and Consent: As the internet continues to change our lives, privacy is becoming more and more critical. Data is the new gold and people are reluctant to provide their details online without being assured that their data is safe. You might find it beneficial to include links to your privacy policy and relevant knowledgebase articles in a disclaimer below your forms.
A/B Testing: Multivariate testing is the process of testing the performance different variations of a marketing campaign, such as an ad text, a headline, call-to-action or any other element of the campaign. You will then be able to adjust your strategy to create content that appeals more to your target customers when you can identify which campaign convert more customers.
How can you recover abandoned form leads?
The problem, however, is that you can never eliminate form abandonment entirely, due to the inevitable nature of the issue. For instance, as mentioned earlier, a visitor may abandon your form simply because they are not ready to purchase yet, if they are still doing their research.
After you have done everything that you can to optimize your forms to reduce abandonment, the next step is to recover leads that abandoned your forms. Anyone can achieve this for their existing forms (no coding knowledge required) with Insiteful: a powerful tool to never miss another opportunity™ from your existing web forms. Insiteful's form abandonment software automagically tracks, engages & converts 100% of prospects that start to fill out your forms.
1. Track all web form activity
Tracking user activity is the first step to understanding why people are leaving the forms without completing them. Insiteful can help you track web activity without any elaborate setup or coding experience. In just a few clicks (under 90 seconds), Insiteful tracks all your existing forms at the field level.
2. Track all form entries (ie. partial and incomplete submissions)
If someone starts filling out one of your lead forms, this usually indicates they are a warm prospect. As such, it is worth all possible efforts to capture and follow-up with leads that do so. With Insiteful you can capture partial and incomplete submissions effortlessly: simply add our one-line tracking code to set up partial entry tracking on your existing forms.
3. Sync missed leads to CRM
To keep everything streamlined and effective, Insiteful can automatically sync missed leads to the CRM of your choice. Insiteful is compatible with many industry-leading names such as Salesforce, HubSpot, or even Slack — it requires no-code to set up!
4. Automate lead recovery: follow-up, retargeting, etc.
Depending on your business, it might be worth following up with the leads manually; however, if your lead volume is relatively high, it probably makes sense to have automatic follow up in place. In this case, Insiteful is the perfect solution: you can not only follow up with the leads automatically with custom drip email sequences but also add these leads to your retargeting ad campaigns.
5. Convert distracted leads with saved progress
Saved progress is a new unique option that is only available with Insiteful. With this feature, you can enable returning/repeat visitors to save their progress & seamlessly resume later where they last left off on your website — on virtually any form (regardless of what platform you used to build it)! With Insiteful, this requires no coding knowledge: it literally takes one click to enable saved progress on all your existing forms.
With these five simple tips, you can immediately boost your form conversions today. If you read this far, you might be interested in Insiteful: the CRO tool designed specifically for capturing & converting more leads from your existing web forms. Learn more today about what Insiteful can do for you, or why form abandonment matters for your business's bottom line.
Was this post helpful?
Let us know if you liked the post. That's the only way we can improve.