Whenever visitors fail to submit a form through the last button, they leave behind incomplete entries. For instance, forms may be abandoned due to technical difficulty or a lost network connection. Alternatively, visitors may spend a long time on each page of the form if it requires lengthy answers.
Regardless of the reason, businesses seeking to boost their online lead generation should capture & restore incomplete entries so prospects can continue editing them.
Unfortunately, traditional analytics like Google leave marketers completely blind to incomplete form entries — abandoned forms will slip by completely unnoticed unless you use a specialized partial form entry tracking tool like Insiteful.
What causes incomplete entries?


Insiteful will capture partial entries & save your user's progress if any of the following occurs:
The user closes the page before clicking submit. The most typical cause of incomplete form entries is form abandonment.
The user quits halfway through a multi-page form. Multi-page forms with lengthy fields are often abandoned part-way through.
The user loses their Internet or gets distracted before completing your form. In some cases, Internet connectivity issues can lead to lost or missed leads, which Insiteful will recover for you.
How to restore incomplete entries
If a form visitor fills out a partial result and doesn't finish for some reason, they can restore & resume from their incomplete submission on their own, so long as the Save & Continue power-up is enabled.
You don't have to do anything to allow users to resume progress, and they don't have to be logged in or have an account on your website — they will be automatically prompted when they return to your website or the form that they abandoned on the same device.
The process for enabling saved progress for incomplete entries in your existing forms is as follows: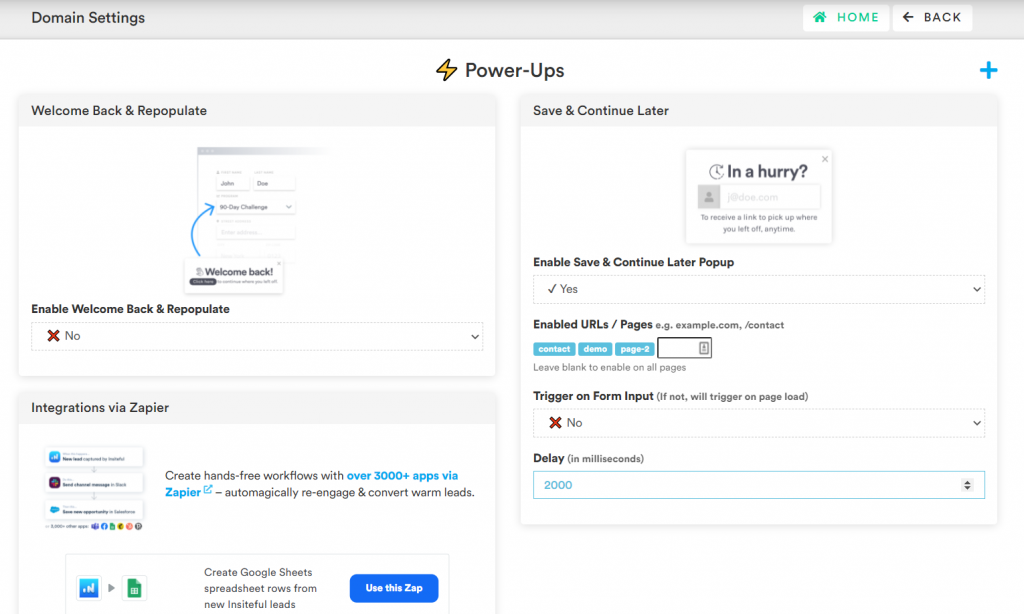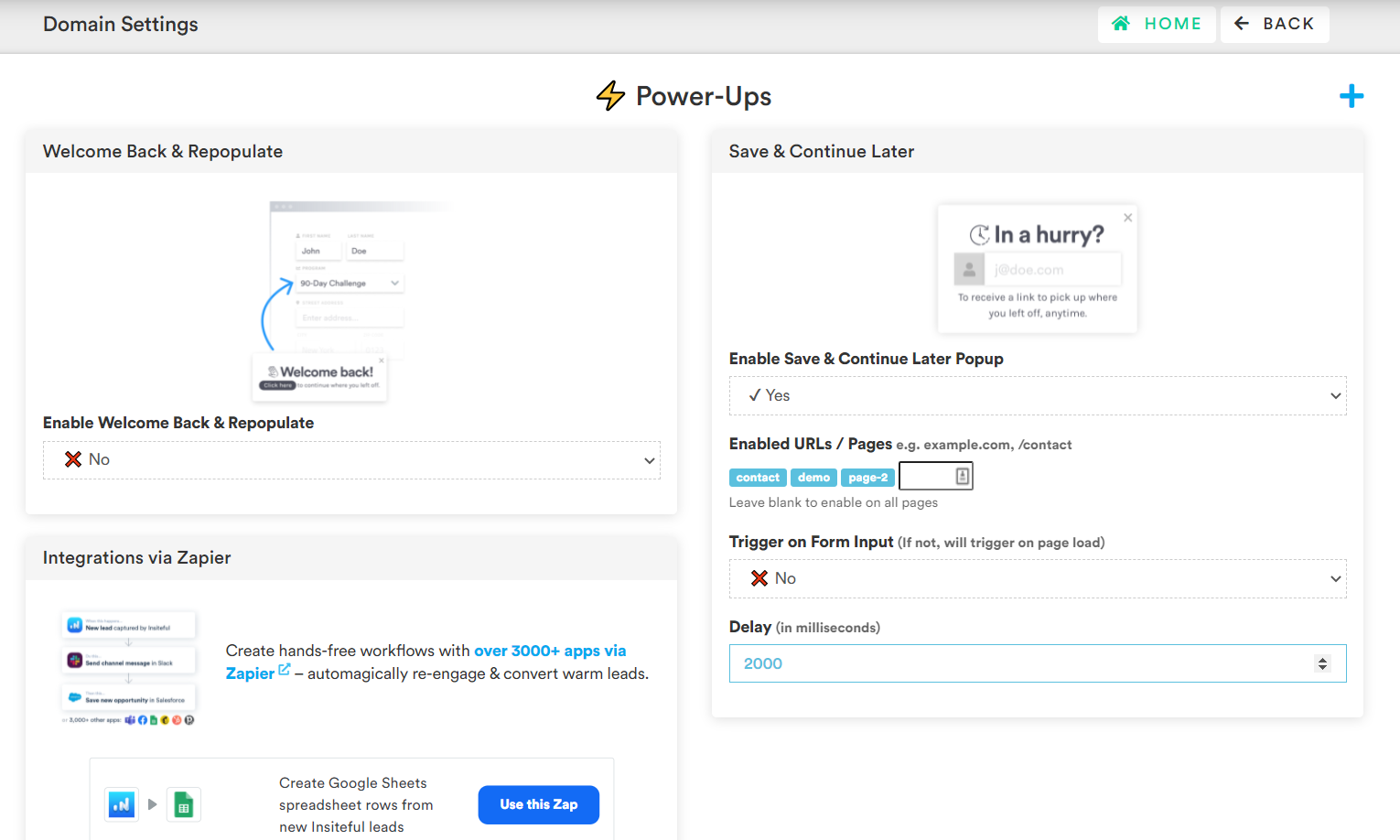 Go to your domain's settings and under the Power-Ups page and enable Save & Continue Later
Customize the time delay, trigger & enabled pages to control when the prompt appears
That's all there is to it! Any leads captured from incomplete entries will appear in the Leads page of your Insiteful dashboard
In just a few clicks, you can allow any website visitor to save & resume their progress from your existing web forms — no login or manual action required!
Other ways to recover abandoned forms
The most reliable and complete solution for reducing the form abandonment is to capture leads that fall through the cracks. This includes tracking partial entries and unsubmitted information. This is where Conversion Rate Optimization tools like Insiteful can help. With a simple line of code, Insiteful can start capturing lead information from abandoned forms. Never miss another opportunity™ and automagically stop losing leads to form abandonment, with Insiteful!
After you start capturing partial lead information, it's time to recover them: this is where automatic follow-up is useful: As soon as a lead is captured, Insiteful can sync to your CRM, inform your sales team, or build robust remarketing workflows with our 3,000+ integrations.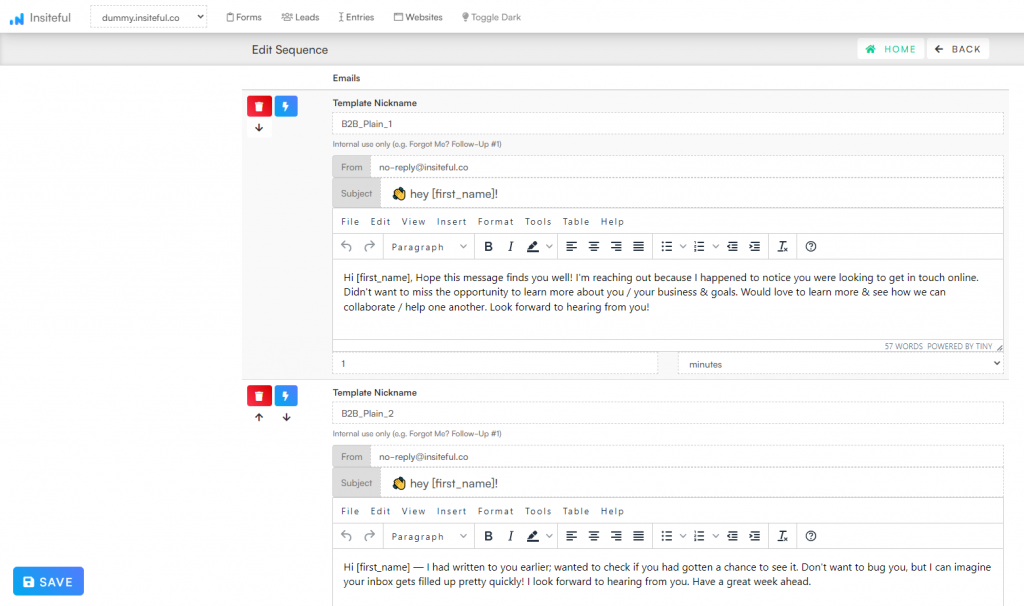 Another way to recover leads is by adding them to remarketing campaigns such as Facebook Custom Audiences and Google Customer Match. Marketing to people who are already interested in your business or brand is an effective way to convert more leads: Insiteful makes this easy by automatically generating remarketing audiences for Facebook and Google advertising.
* * *
Insiteful is a turnkey solution for form abandonment: set up end-to-end automation with the most advanced conversion optimization platform for web forms. Get the most out of your existing forms and marketing efforts: 
With an easy-to-use interface and the industry's most powerful form tracking engine, Insiteful's conversion rate optimization (CRO) platform can help any business get more leads and sales from their website and forms.
From smart insights & form funnel analytics to partial entry tracking, auto email follow-up & saved progress, Insiteful has everything you need to capture & convert more leads from your existing efforts. Try it today — it takes just a few clicks!
Was this post helpful?
Let us know if you liked the post. That's the only way we can improve.