Retargeting lost leads from abandoned forms just got easier: export an upload-ready Facebook custom audience list from Insiteful in just one click, pre-formatted to match Facebook's customer list requirements for CSV files!
Insiteful empowers you to recapture abandoned form leads in real-time: now you can skip the manual data entry with our built-in Facebook Custom Audiences feature. With Insiteful, you can enjoy the peace of mind of No more missed opportunities™, thanks to our complete solution for tracking incomplete form entries and detecting leads. Using our turnkey lead capture technology, you can automagically capture, track, and re-engage potential clients and automatically detects leads from unfinished form submissions.

To generate & download your Facebook Custom Audience customer list, simply login to Insiteful and visit the Leads page, then click the "Facebook Custom Audiences" button (as seen above). You will be redirected to a page where you can download your Facebook Custom audience list, pre-formatted to match Facebook's official CSV template (link here).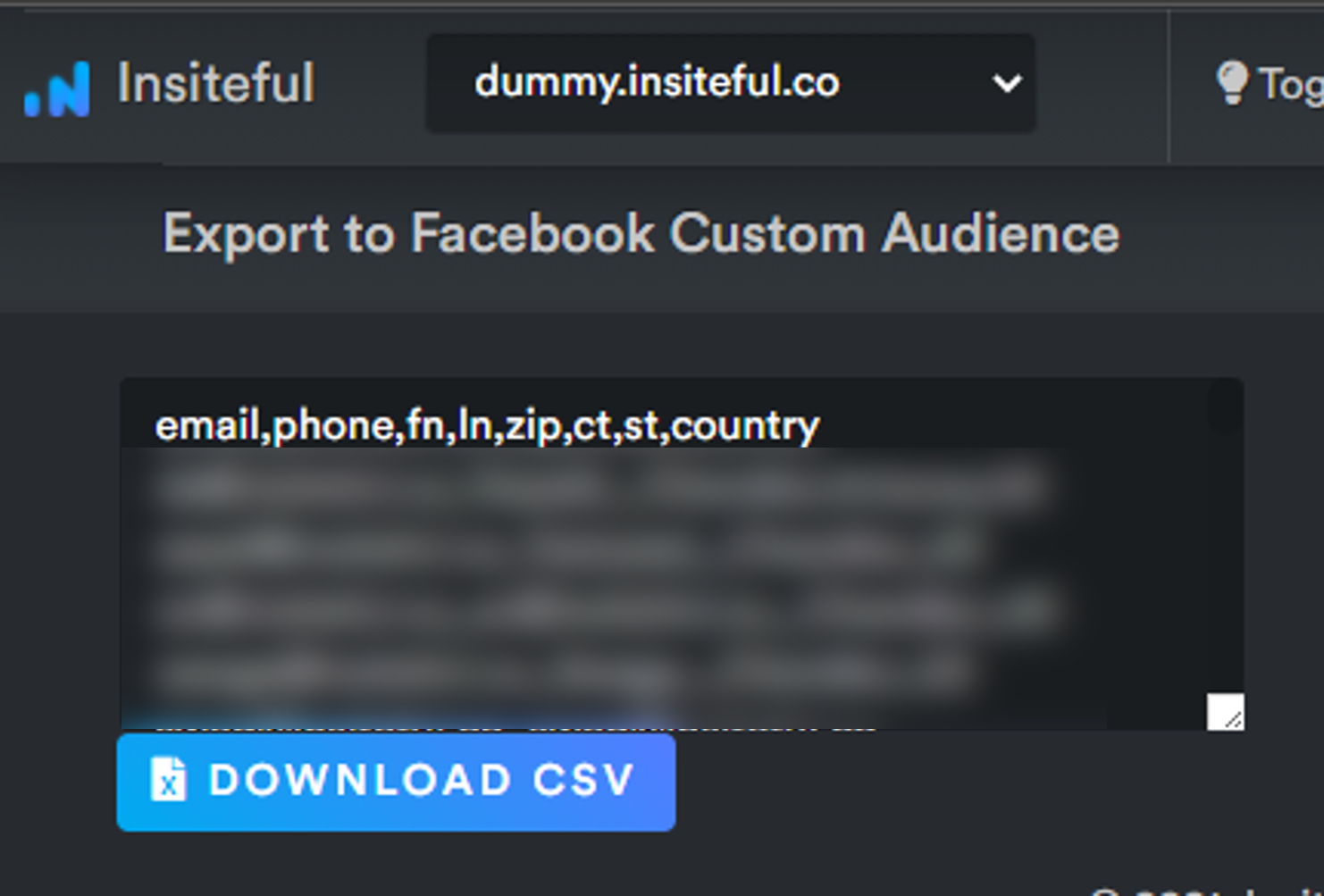 What can you do with the new Custom Audiences feature?
Custom Audiences are an ad targeting option that allows you to use sources like customer lists, website or app traffic, or engagement on Facebook, to create Custom Audiences of people who already know your business. Custom Audiences were designed to allow Facebook advertisers to create retargeting or remarketing campaigns: to reach with people who previously interacted with your website or mobile app, and upsell or cross-sell those audiences by reminding them of their purchasing intent.
In this case, you're able to create a Custom Audience in Facebook by uploading a "customer list" of leads detected from your web forms, in CSV format. Insiteful makes it easy to track & remarket to lost leads from partial entries & abandoned forms.
What's the purpose of retargeting?
Retargeting campaigns are used to show ads to people who have visited your website or used your app. By strategically positioning your ads in front of these audiences as they browse other websites (ie. Facebook and it's partners), your business can increase your brand awareness or recover & convert those visitors into paying customers.
Generally speaking, retargeting ads garner a higher conversion & engagement rate, since these audiences have already indicated interest in your products &/or services. Setting up retargeting ads for your business takes only a matter of clicks with Facebook — a powerfully simple strategy to add to your business bottom-line and improve your marketing efficiency. Try it out today on Insiteful.co!
Was this post helpful?
Let us know if you liked the post. That's the only way we can improve.